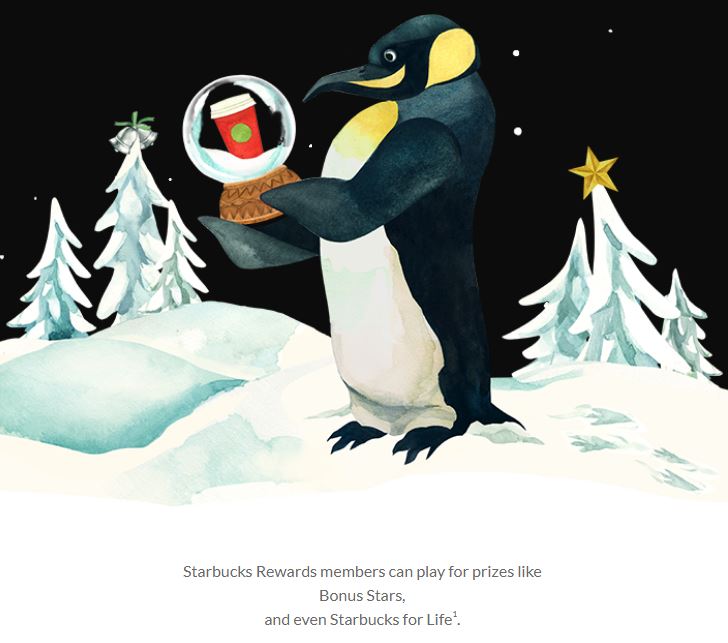 Enter the Starbucks For Life Contest 2017 Holiday Edition for your chance to win a Starbucks for Life digital card valid for 30 years valued at approximately $59,021 and many more prizes.
Contest is open to legal residents of Canada who are at least 18 years old at the time of entry.
To enter, go to the official Starbucks For Life Contest page at starbucksforlife.ca
Click the "Enter the Starbucks for Life Sweepstakes" button and simply fill out the form with your email address and zip code to receive an entry into the sweepstakes.
To play the Collect and Win game, go to the official website starbucksforlife.ca and click the "SIGN IN & PLAY" button. You will be prompted to sign up if you are still not a Starbucks Rewards Member.
Once you have signed in, follow the instructions to receive game plays:
– By following the instructions of the no purchase option by completing the entry form.
– Or by making a qualifying purchase at a participating Starbucks retail location in Canada using your Starbucks Card.
– You can also receive bonus plays by completing the different challenges.
After earning your entries you can Play the Game and you will receive either an Instant Win Game prize or one Collect and Win Game Piece. If you collect the 3 Game Pieces for a prize you will win that prize.
The contest closes on January 8, 2018 at 11:59 p.m. PT.
Prizes
Grand Prize - "Starbucks for Life" 1 Winner.
First Prize - "Starbucks for a Year" 2 Winners.
Second Prize - "Starbucks for 6 Months" 3 Winners.
Third Prize - "Starbucks for 3 Months" 5 Winners.
Fourth Prize - "Starbucks for a Month" 10 Winners.
Fifth Prize - "Starbucks for a Week" 50 Winners.
Sixth Prize – 125 Bonus Stars 2,500 Winners.
Seventh Prize – 75 Bonus Stars 5,000 Winners.
Eighth Prize – 50 Bonus Stars 7,500 Winners.
Ninth Prize – 10 Bonus Stars 125,000 Instant Winners.
Contest period
The Starbucks For Life Contest 2017 begins on December 5, 2017 and ends on January 8, 2018 at 11:59 p.m. PT.
Winners and contest results
The entrant who collects the 3 game pieces of the prize will be the winner of that prize.

Winner of the sweepstakes will be chosen by random draw from among all the elegible entries received.