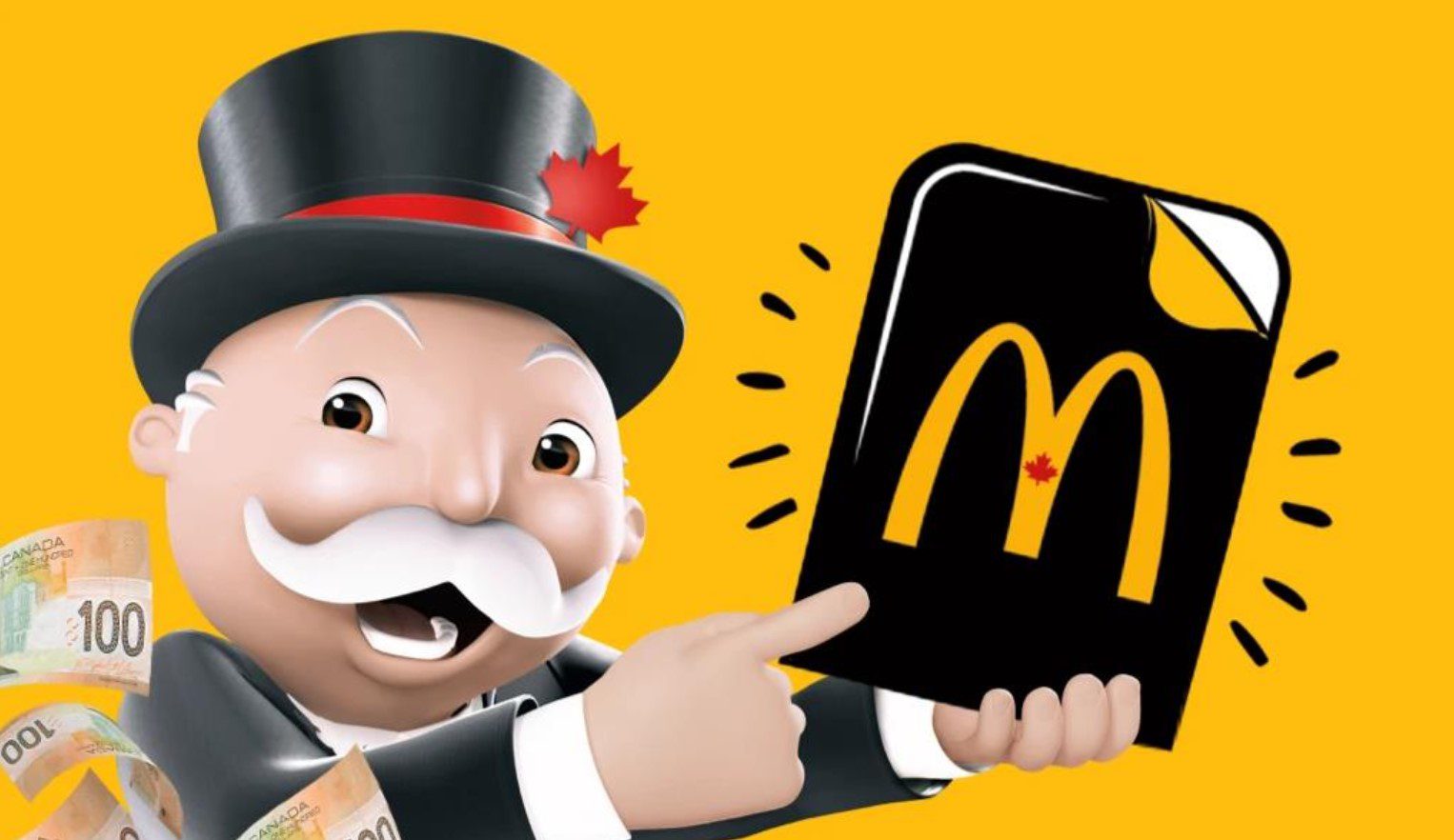 Participate in the McDonalds Coast to Coast Monopoly 2022, in it, you get the chance to win a share of over $80 million in prizes.
Who can enter?
The promotion is open to all residents of Canada, and there is no age limit to play the Game.
How to play the McDonalds Coast to Coast Monopoly 2022 game?
To play you first have to obtain game pieces by purchasing participating products, then peel off the stamps to find out if you won an instant win prize or participation on the Collect to Win game.
Get the Game Board at any participating McDonalds restaurant or download and print it via the website.
Visit mcdpromotion.ca and register for the contest.
Collect the stamps on your Game Board and enter your codes at the contest website to track your stamps (properties) and earn Monopoly Rewards.
How do I win the Collect to Win game using rare stamps?
To win in this game you have to collect and combine all the Collect to Win stamps of the same colour group, all of the airport stamps, both highways or all of the RMHC locations including one of the winning Rare Piece combinations.
What are the "Rare Piece" combination prizes?
Rideau Canal (#401) and Parliament Hill (#402) – One of seven 2023 Chevrolet Bolt EUV Premier Vehicles.
Lake Louise (#403) , Mackenzie River (#404) and Lake Athabasca (#405) – One of four Polaris Adventure Bundles of your choice.
Percé Rock (#406), Miles Canyon (#407) and Lunenburg Harbour (#408) – One of ten $25,000 cash prizes.
Signal Hill (#409), Peggys Cove (#410) and Tunnels of Moose Jaw (#411) – One of five HyperX PC gaming bundles.
Confederation Bridge (#412), Baffin Island (#413) and Bay of Fundy (#414) – One of five $5,000 Vanilla Visa prepaid cards.
Algonquin Provincial Park (#415), Wapusk National Park (#416) and Whistler (#417) – One of sixty RYOBI Dream Power tool packs.
Robson Street (#418), Sainte-Catherine Street (#419) and Portage and Memorial (#420) – One of five $2,000 Hudson's Bay gift card.
Fairmont Le Chateau Frontenac (#421) and Niagara Falls (#422) – One of five prizes of either 5 million RBC rewards points or $50,000 cash.
Montreal Airport (#423), Toronto Airport (#424), Halifax Airport (#425) and Vancouver Airport (#326) – One of fifteen Family vacation for four prizes to Universal Orlando Resort.
Sea to Sky Highway (#427) and Transcan Highway (#428) – One of ten 1,000,000 MyMcDonald's Rewards Points prizes.
RMHC Alberta (#429), RMHC Montreal (#430) and RMHC Toronto (#431) – One of one hundred $1,000 for You and $1,000 for the Ronald McDonald House of your choice prizes.
How do I claim a prize?
Instant Win food prizes and McDonald's cards can be claimed at any participating restaurant.
Non-food prizes can be claimed by calling the toll free number on the game piece or at the contest website, you will be required to submit the game materials and codes to claim Collect to Win prizes.
When can I enter?
The contest will run from October 4, 2022 to November 7, 2021.