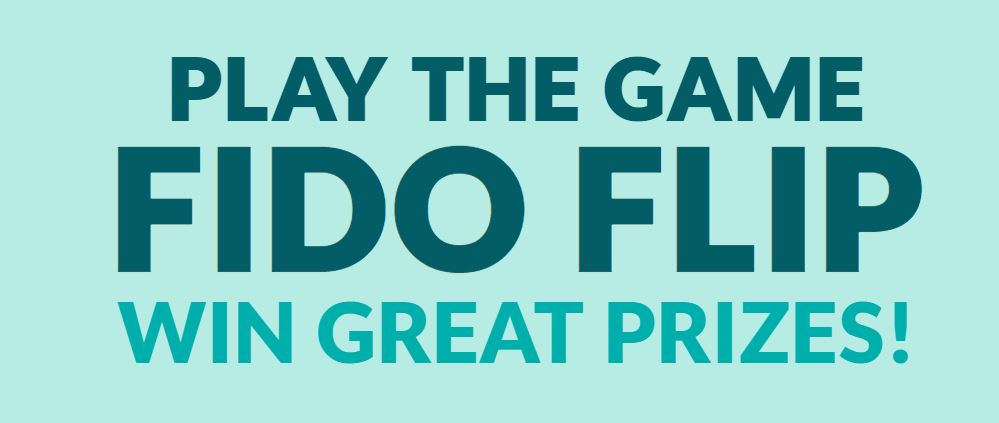 Enter the Fido Flip Game Contest for your chance to win Samsung Galaxy S8 Smartphones, Pixel XL smartphones, LG G6 smartphones, Xbox One X game consoles, Playstation 4 Pro consoles, Nintendo Switch consoles, $5,000 Fido prepaid cards and more.
To enter the contest, go to fido.ca/apps and download the Fido My Account app.
Once you have downloaded the app, go to the "More" menu and click the banner to access the contest website. Then, follow the instructions to register.
When you complete your registration, you will receive 5 daily plays. You can receive additional entries by obtaining a Code from a store representative from any Fido Wireless Dealer or Fido Corporate store in Canada.
Follow the on-screen instructions to use one of your daily plays to play the Fido Flip game to receive entries for the grand prize draws. The game consists on clicking the pyramid rows without selecting any of the hidden "Game Over" Circles. If you reach the highest rows you will have a chance to win better prizes.
Contest closes on December 31, 2017. Winners will be chosen by random draw from among all the elegible entries.
Prizes
Instant prizes: 500 Cineplex gift cards ($25 value).

GRAND PRIZE A (FIRST ROW):
- 25 Sonos Play 1 speakers.
- 25 Google Home speakers.

GRAND PRIZE B (SECOND ROW):
- 5 Xbox One X Consoles.
- 5 Plystation 4 Pro consoles.
- 5 Nintendo Switch Consoles.

GRAND PRIZE C (THIRD ROW):
- Thirty $500 Hotels.com gift cards.

GRAND PRIZE D (FOURTH ROW):
- 4 Samsung Galaxy S8 64GB.
- 4 Pixel XL Google smartphones.
- 4 LG G6 32GB smartphones.

GRAND PRIZE E (FIFTH ROW):
- 4 Fido Visa prepaid cards.
Contest period
The Fido Flip Game Contest runs from October 04, 2017 to December 31, 2017 at 11:59 pm ET.
Winners and contest results
On or about January 29, 2018 random drawings will be conducted to select the winners of the grand prizes from among all the elegible entries.