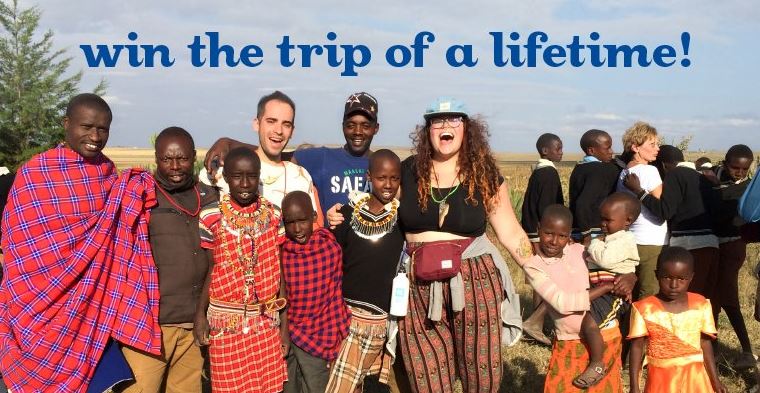 Enter the DAVIDs TEA + ME to WE Contest 2017 for a chance to win the trip of a lifetime to Kenya.
1. Visit the official website of the contest.
2. Fill the required personal information and answer "in 200 words or less how you give back to your community and what winning the trip would mean to you".
3. Following confirmation of your participation, you will have the opportunity to increase your chances of winning by Following DAVIDs TEA on Facebook, Twitter and Instagram.
Prizes
Runner-up prize: a gift basket filled with DAVIDsTEA and ME to WE merchandise, valued at $1000 CAD.

The Grand Prize consists of a trip to Kenya for the winner, accompanied by one person of his/her choice. The trip includes:
- Discover Nairobi (1 night) and the Maasai Mara (7 nights)
- Volunteer on a sustainable development project, visiting local schools, hospitals and homesteads to learn about life in rural Kenya and hike with Maasai warriors.
- Guides, international airfare, ground transportation for the duration of the trip..
- Hotel accommodation in Nairobi, domestic airfare, accommodation and meals and drinks at Bogani, activities.
- Flying doctors insurance (evacuation in-country).
The trip must be taken by March 20th, 2018.
Contest period
The DAVIDsTEA + ME to WE Contest (the "Contest") begins at 12:00:00 AM Eastern Time on Wednesday, February 15th, 2017 and ends at 11:59:59 PM Eastern Time on Friday, March 10th, 2017
Winners and contest results
At the end of the Contest Period a random draw from all eligible entries received during the Contest Period will take place at 5430 Ferrier, Mount-Royal, QC at 12:00 PM on Monday, March 20th, 2017.